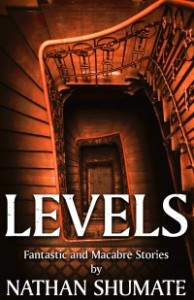 Coming March 16th:  The editor and publisher of the Arcane and Space Eldritch anthologies now presents you with seventeen of his own short stories. From post-apocalyptic communities to existential wastelands, from black comedy to dark absurdism, from visceral shock to Lovecraftian dread, the seventeen unsettling stories in this collection are guaranteed to ensnare your imagination.
"These tales are the macabre, elegant, folksy, wise, and macabre gift of a master storyteller, and not to be missed. Did I mention that they're macabre?"

-D.J. Butler, author of Rock Band Fights Evil and Crécheling

"Fun, exciting, all-around a good read… everything you'd expect from this writer."

-Michaelbrent Collings, author of This Darkness Light and The Colony Saga

"Not only exciting and creepy but deeply hilarious."

-Dan Wells, author of I Am Not A Serial Killer and the Partials series
Available for ebook pre-order at Amazon and Smashwords.  Print edition to follow!