Space Eldritch II: The Haunted Stars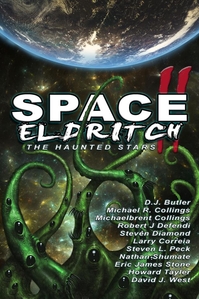 The cold of interstellar space is again closer than you think as eleven authors — including New York Times bestseller Larry Correia, Nebula winner Eric James Stone, Amazon #1 bestseller Michaelbrent Collings, and multiple Hugo nominee Howard Tayler — explore what happens when space opera meets Lovecraftian cosmic horror.
Contents:
"A Darklight Call'd on the Long Last Night of the Soul" – Michaelbrent Collings
"Dead Waits Dreaming" – Larry Correia
"The Implant" – Robert J Defendi
"Plague Ship" – Steven L. Peck
"From Within the Walls" – Steven Diamond
"Space Opera: Episode Two—The Great Old One Strikes Back" – Michael R. Collings
"The Queen in Shadow" – David J. West
"The Humans in the Walls" – Eric James Stone
"Seed" – D.J. Butler
"Full Dark" – Nathan Shumate
"Fall of the Runewrought" – Howard Tayler
Cover by Carter Reid
Ebook: Amazon | Smashwords
Print: Amazon
Space Eldritch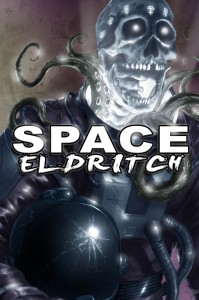 Science fiction goes occult in SPACE ELDRITCH, a volume of seven original novelettes and novellas of Lovecraftian pulp space opera. Featuring work by Brad R. Torgersen (Hugo/ Nebula/Campbell nominee), Howard Tayler (multiple Hugo nominee), and Michael R. Collings (author of over 100 books), plus a foreword by New York Times bestselling author Larry Correia, SPACE ELDRITCH inhabits the intersection between the eternal adventure of the final frontier and the inhuman darkness between the stars.
Contents:
Foreword – Larry Correia
"Arise Thou Niarlat From Thy Rest" – D.J. Butler
"Space Opera" – Michael R. Collings
"The Menace Under Mars" – Nathan Shumate
"Gods in Darkness" – David J. West
"The Shadows of Titan" – Carter Reid and Brad R. Torgersen
"The Fury in the Void" – Robert J Defendi
"Flight of the Runewright" – Howard Tayler
Cover by Carter Reid
Ebook: Amazon | Barnes & Noble | Smashwords
Print: Amazon