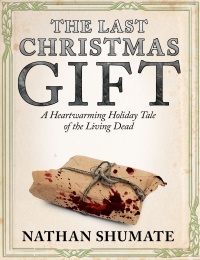 "If you didn't like The Christmas Box because there weren't enough zombies, this is the book for you."
-Richard Paul Evans*
In the Tradition of The Christmas Box and The Return of the Living Dead
Malcolm's grandfather is his best friend.
So when Granpap dies on Christmas Eve, Malcolm desperately tries to bring him back by using the cursed fetish doll that Malcolm's father sent him before disappearing in Vietnam.
But he does something wrong. Granpap revives — but so does everyone in the cemetery across the street…
"Excellent. Laughs, action, and the most unusual Christmas Eve ever experienced. Great characters meet a great story for fantastic fun."
-Michaelbrent Collings, #1 Amazon bestselling author of This Darkness Light and The Ridealong
"A great zombie story that teaches us all that the dead are to be rightly feared, Christmas is a dark and foreboding holiday, and gifts from our parents are to be treated with the utmost suspicion. It should also be noted that if you live next to a cemetery… you should move."
-Carter Reid, Hugo-nominated creator of TheZombieNation.com
"The awesome never takes the foot off the gas."
-D.J. Butler, author of City of the Saints
Print edition available for $9.99 at Amazon
Ebook edition available for $2.99 at Amazon and Smashwords
*Totally legitimate quote. I swear.