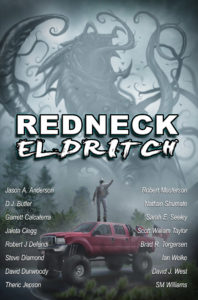 And with strange aeons,
Even Death may take a dirt nap…
From the publisher of the SPACE ELDRITCH anthologies comes a flavor of cosmic horror that's much closer to home!
Sometimes amusing, sometimes horrifying, always unsettling, sixteen authors bring you sixteen tales of white trash meeting dark gods, the yellowed bones of antiquity, and colors that can't be named.
Including Writers of the Future winner and Hugo/Nebula/Campbell nominee Brad R. Torgersen, Writers of the Future winner Robert J Defendi, Hugo nominee Steve Diamond, and many more!
Contents:
"A Hole in the World" by Ian Welke
"Recording Devices" by D.J. Butler
"Mine of the Damned Gods" by Sarah E. Seeley
"Blood" by Steve Diamond
"Ostler Wallow" by Nathan Shumate
"Nightmare Fuel" by David Dunwoody
"The Swimming Hole" by Theric Jepson
"It Came From the Woods" by Jason A. Anderson
"Lake Town" by Garrett Calcaterra
"Taxed" by Scott William Taylor
"The Gears Turn Below" by SM Williams
"Slicker" by Robert J Defendi
"A Brown and Dismal Horror" by Jaleta Clegg
"The People of the Other Book" by Robert Masterson
"The Diddley Bow Horror" by Brad R. Torgersen
"At the Highways of Madness" by David J. West
Ebook: Amazon | Smashwords
Print: Amazon