Arcane II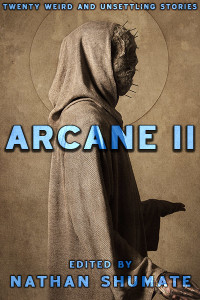 A landlord finds something left behind by a former tenant, something with a will of its own…
A bride explores her new husband's manor house, seeking the mystery that overshadows his life…
A survivor of the apocalypse sees an insidious change infecting the few remaining humans…
This second volume of the Arcane anthology series presents these and eighteen more stories of dark imagination.
Contributors: Andrew Bourelle, Miranda Ciccone, Libby Cudmore, Eric Dimbleby, Michael R. Fletcher, Milo James Fowler, Gef Fox, Adele Gardner, Jean Graham, Michael Haynes, Harry Markov, Matthew Quinn Martin, Patrick S. McGinnity, Brooke Miller, Joanna Parypinski, Craig Pay, Philip M. Roberts, Priya Sharma, Anna Sykora, Nicole M. Taylor, Steve Toase, Ian Welke
Ebook: Amazon | Barnes & Noble | Smashwords
Print: Amazon
---
Arcane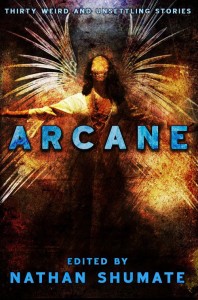 An office worker returns from bereavement leave to find his workplace changing before his eyes…
A priest excites his village to the greatest show of devotion to their god ever seen…
A mortician sees all of his immaculate handiwork destroyed when his clients start rising…
These and twenty-seven more tales of the fantastic and macabre will excite your imagination and discomfort your dreams.
Contributors: Thomas Allein, Paul L. Bates, Mark Beech, Dan Cavallari, Gemma Files, Milo James Fowler, Eric Francis, A.A. Garrison, S.K. Gilman, Brady Golden, Damien Walters Grintalis, Caitlin Hoffman, Van Aaron Hughes, D.T. Kastn, Bartholomew Klick, James Lecky, Christine Lucas, David McGillveray, Joe Mirabello, Jonathan S. Pembroke, Anthony J. Rapino, Rhiannon Rasmussen-Silverstein, Christopher Slatsky, Frank Stascik, Josh Strnad, Max Vile, Fran Walker, S.M. Williams, Stephen Willcott, Jeremy Zimmerman
Ebook: Amazon | Barnes  & Noble | Smashwords
Print: Amazon
---
Arcane Sampler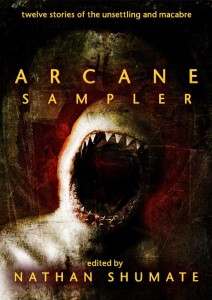 Twelve stories of weird chills! Included:
– The performers in a traveling carnival suddenly find themselves in mortal danger from their latest exhibit.
– A Bible salesman discovers a reclusive family who worships something older… and closer.
– A good Samaritan stopping to give roadside assistance encounters something far more dangerous than a flat tire.
Plus nine more tales of the chilling and macabre!
This mini-anthology contains "Hazards" by Justin Pollock, "Darnell Behind Glass" by Jeff Crook, "The Mine" by Jason V. Shayer, "Ricky and the Elder Gods" by S.M. Williams, "Gingerbread and Ashes" by Jaelithe Ingold, "Dear Management" by Tom Wortman, "In the Place Where the Tree Falleth" by Michael Lutz, "Laundry Night" by Stephen Hill, "Hello Operator" by Donny Waagen, "Courting the Queen of Sheba" by Amanda C. Davis, "A Requiem for Tarsenesia" by William Knight, and "The Hole" by Rob Errera.
Ebook: Amazon | Barnes & Noble | Smashwords