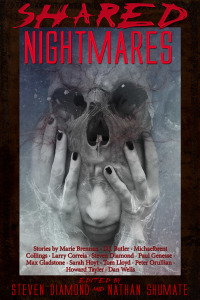 Of the eight reviews of Shared Nightmares on Amazon, five of them give it five stars.
I'm not really big on blood and gore, and this was not a slasher-type collection of stories. Yes, there's some violence, but I didn't find it overly graphic, and the fear factor in this collection is mostly psychological (in all its flavors — worry for one's children, anger at something that has happened to oneself, paranoia, even guilt).

Editors Steven Diamond and Nathan Shumate have done a fantastic job corralling these disparate tales into a cohesive collection. If you prefer your horror to be on the literary end of the spectrum, without the usual tired clichés, then check out Shared Nightmares.

– DED

This is a fantastic read brought together by some of the big names among the modern and not groupthink limp wristed SciFi authors. Sarah Hoyt and Larry Correia are both some of the best writers in modern SciFi and it's nice to see them jump to a different genre to scare our pants off.

Quality of writing: five stars.

– S. Marsh

I greatly enjoyed reading this anthology.
And of the remaining three reviews, one was four stars, one was three stars, and one was one star (eleven words with missing punctuation and two spelling mistakes). So score!
Don't you owe it to yourself to own your own copy?